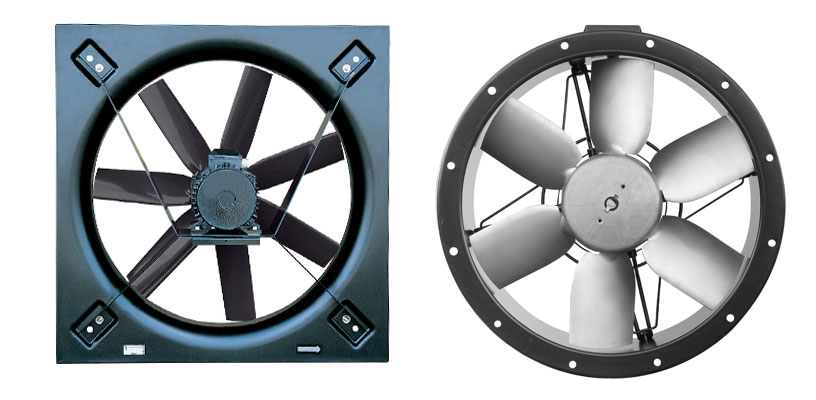 Axial fans from Soler & Palau
with protection class IP65
Wall plate made of sheet steel, with moulded-on inlet nozzle and contact guard in accordance with EN 60335-1 and EN 60335-2-80, made of steel.
Entire construction with epoxy-polyester coating. Axial impellers made of thermoplastic, glass-fibre reinforced plastic, statically and dynamically balanced according to ISO 1940.
AC motors heat class F, protection class IP 65, with thermal contact routed separately to the terminal board.
Closed ball bearings - maintenance-free, motor rating continuous operation S1.
Air direction -A- (motor via impeller)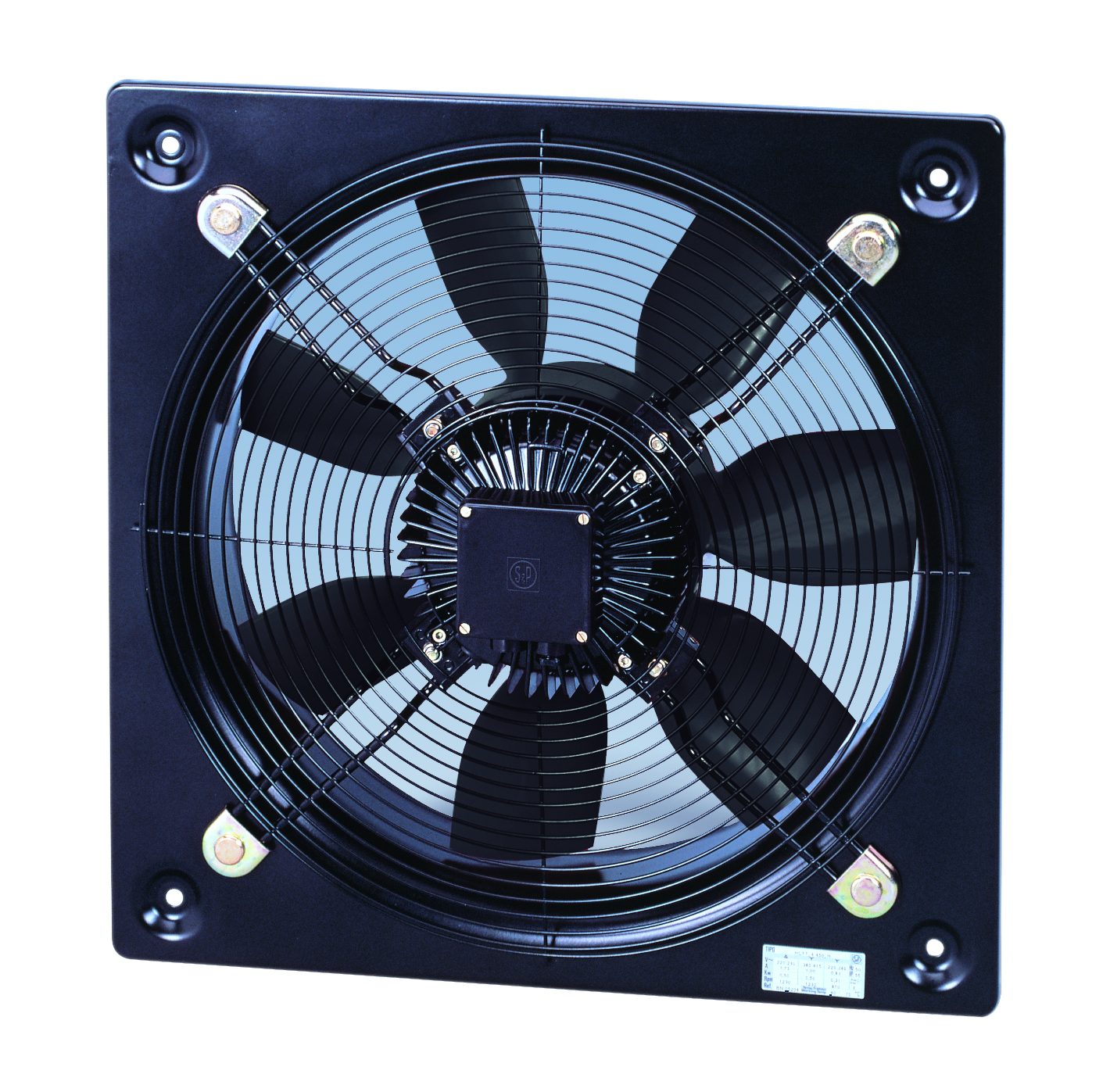 HCFB (230 V)
Motor poles
4- or 6-pole
Volume flow, free-blowing
1.090 to 17.230 m³/h
Max. pressure PsF
195 Pa
Blade diameter
250 to 630 mm
Speed control
5-stage transformer or frequency converter
Rated voltage UN
1~230 V
Rated frequency fN
50 Hz
Speed control
All HCFB models transformer and electronic speed controllable
Permissible flow medium temperature
-40 to +70 °C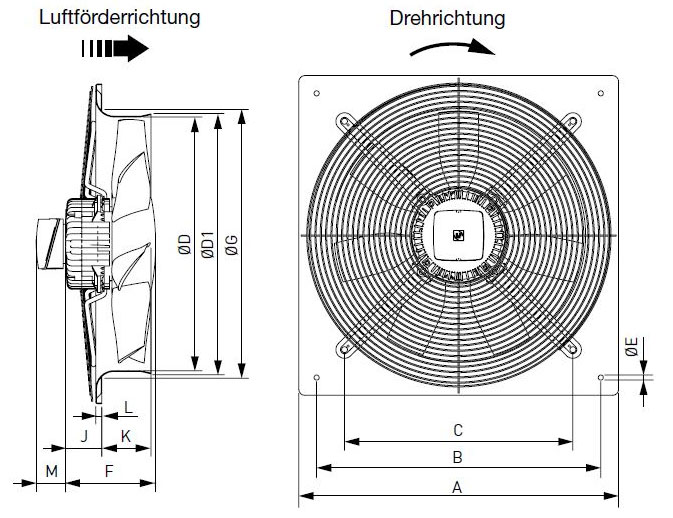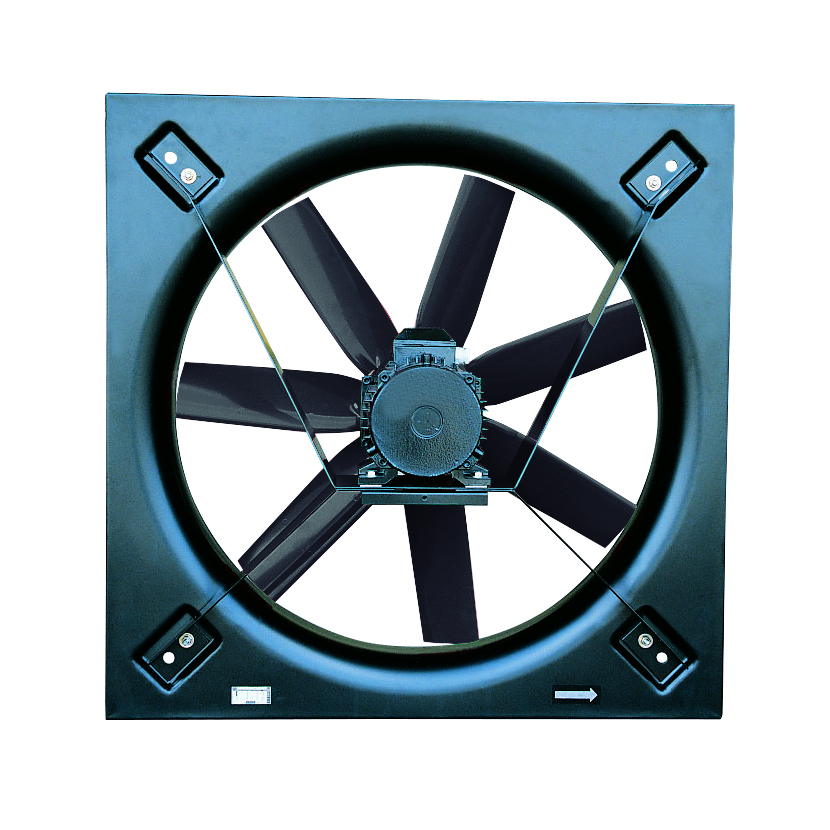 HCFT (400 V)
Motor poles
2-, 4- or 6-pole
Volume flow, free-blowing
1.110 to 22.140 m³/h
Max. pressure PsF
125 Pa
Blade diameter
315 to 710 mm
Speed control
5-stage transformer or frequency converter
Rated voltage UN
3~400 V
Rated frequency fN
50 Hz
Speed control
Models speed controllable by transformer and frequency converter (20-50 Hz)
(Exception: HCFB/4-630/H speed controllable only by means of 5-stage transformer)
Permissible flow medium temperature
-40 to +70 (55) °C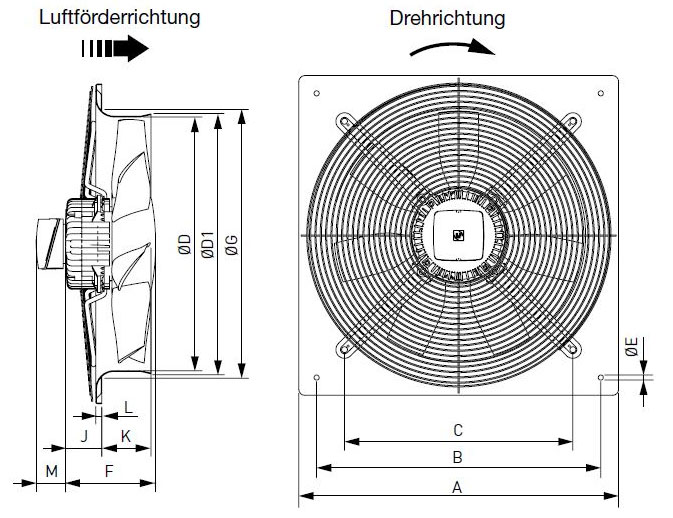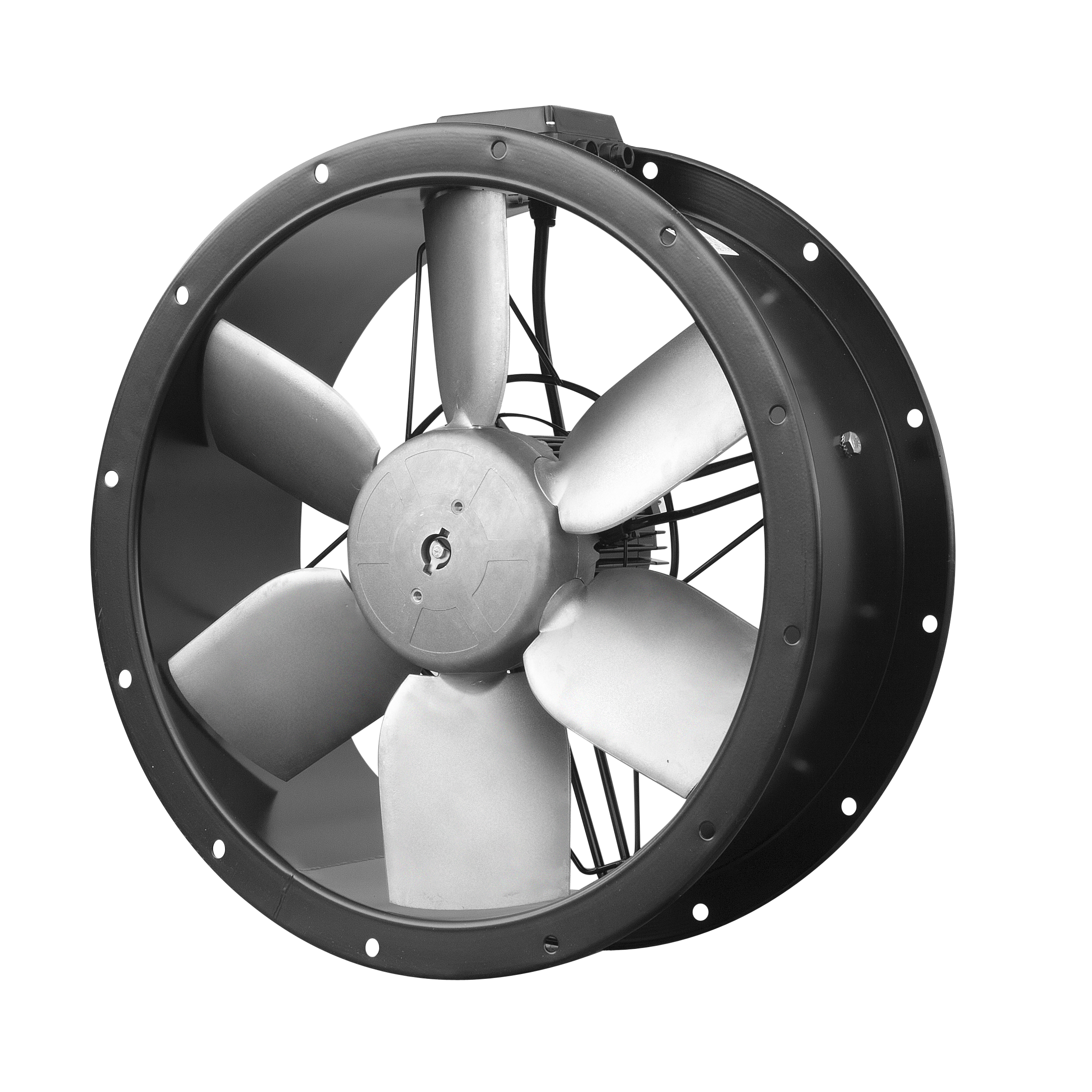 TCBBx2
Protection class IP65
Pipe fan
Diameter
450 to 630 mm
Rated voltage UN
1~230 / 3~400 V
Motor poles
4-pole
Volume flow, free-blowing
7.430 to 17.810 m³/h
Max. volume flow qv, (at max. PsF)
411 Pa/5315 m³/h to 587 Pa/12.997 m³/h
Blade material
Die-cast aluminium
Input power P1
1.316 to 4.014 W
Speed control
5-stage transformer or frequency converter
(230V models only 5-stage transformer)
Permissible flow medium temperature
-40 to +70 °C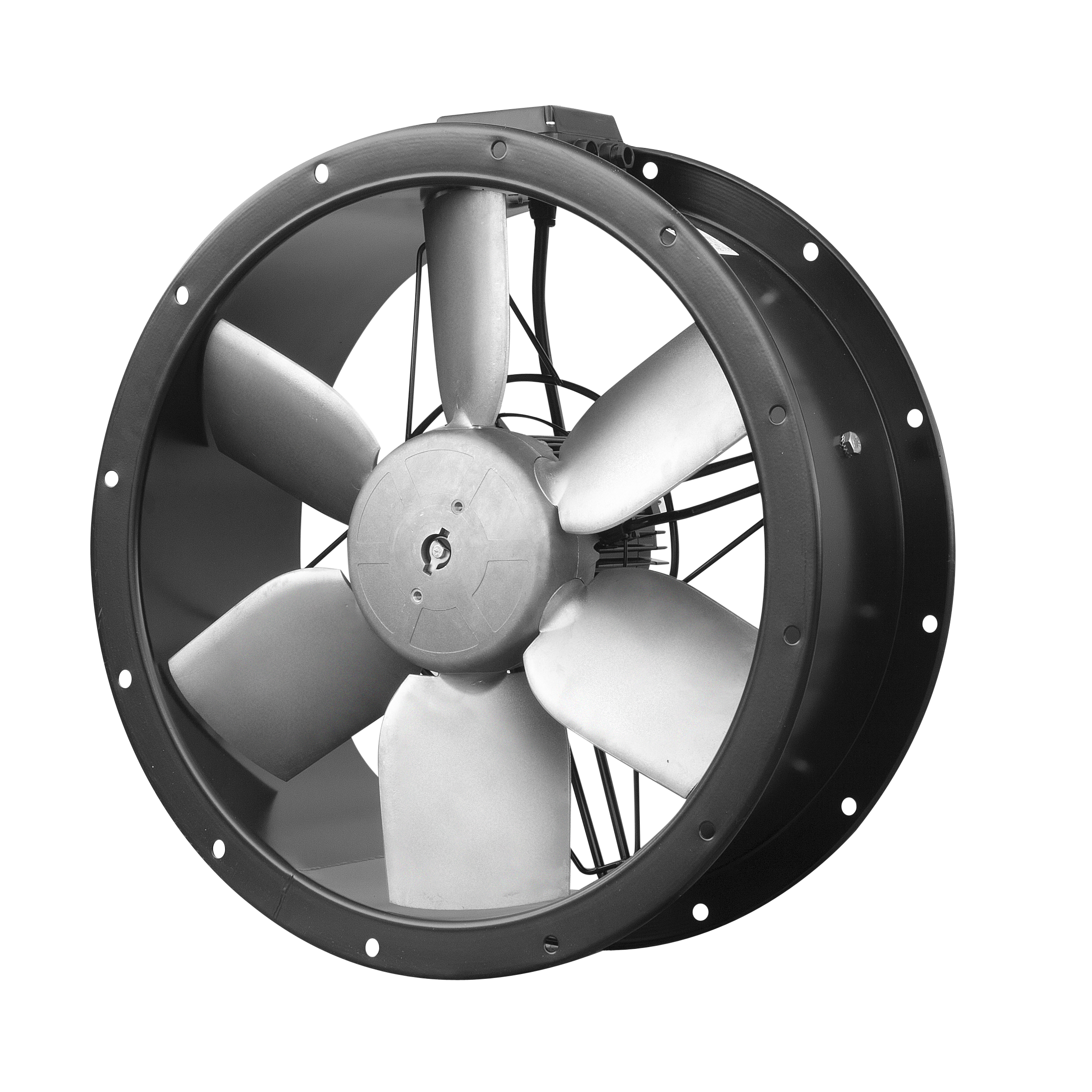 TCBTx2
Protection class IP65
Pipe fan
Diameter
450 to 710 mm
Rated voltage UN
3~400 V
Motor poles
4- or 6-pole
Volume flow, free-blowing
2.250 to 19.120 m³/h
Max. volume flow qv, (at max. PsF)
167 Pa / 15643 m³/h
Blade material
Die-cast aluminium
Input power P1
97 to max. 1.378 W
Speed control
Frequency converter, partly also 5-stage transformer
Permissible flow medium temperature
-40 to +70 °C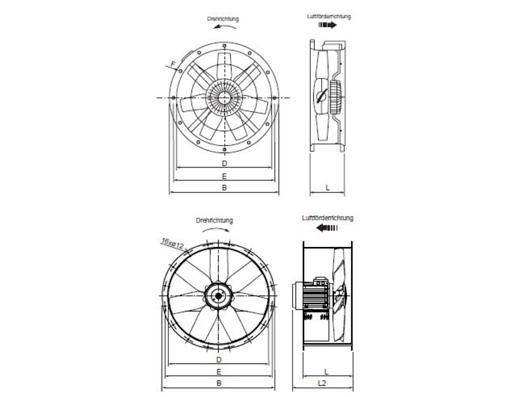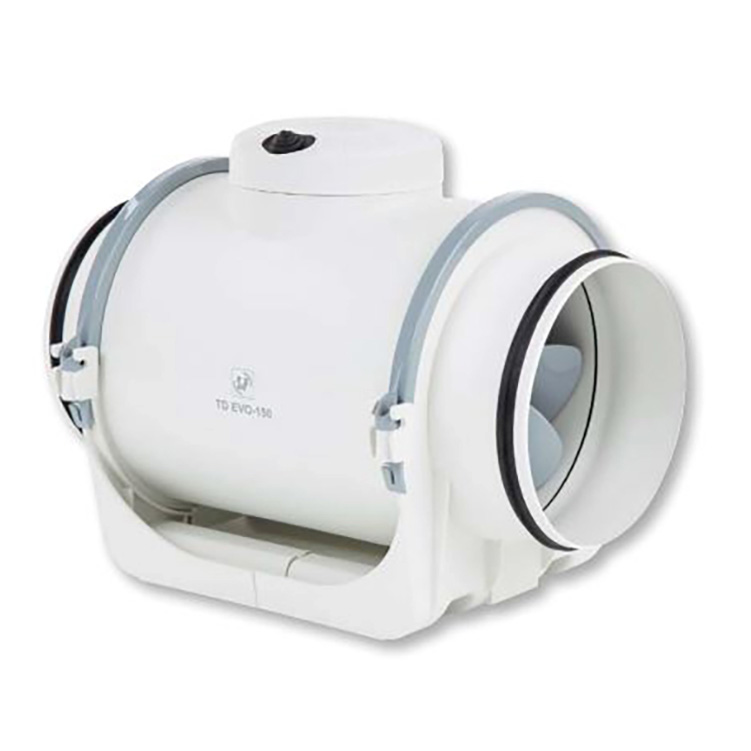 TD EVO-315 N8
Diameter
315 mm
Rated voltage UN
1~230 V, 3-stage
Max. volume flow qv, (at max. PsF)
1.840/1.730/1.620 m³/h, free-blowing; 1,1/0,9/0,8 A
Blade material
ABS plastic
Input power P1
273/231/200 W
Speed control
Transformer or electronic
Permissible flow medium temperature
-20 bis +60 °C
Protection class
IP44
Sound pressure level LpA or LwA
3m: 40/38/36 dB(A)
For installation and maintenance work, the motor unit of the fan can be removed without dismantling the ductwork